The first figure from new serie "Legends of racing" – Tazio Nuvolari in 54 mm, 1/43 and 1/24 scale.
The first name on anybody's list of the greatest is Tazio Nuvolari, the legendary, lantern-jawed, ferociously intense man of Mantova. Nuvolari's racing career, which started with motorcycles, spanned the three decades from 1920 to 1948. The Italian drove during both the pre-war and post-war eras, and unlike most top-rank drivers, who taper off in their latter years of competition, Nuvolari was almost as much a threat at the end as he was at the start. He had already raced for 14 seasons when the golden era of pre-war racing – the 1934-39 period – began, and still he racked up 11.5 grand prix wins during that period (fractional points were given for shared drives). During his next-to-last year of racing, when he was 55 years old, he almost won the fabled Mille Miglia.
Enzo Ferrari raced against Nuvolari in the '20s, and later hired him to drive Alfa Romeo and Ferrari automobiles. Ferrari's involvement with motor racing and racing cars lasted 60 years, giving him a unique perspective on the sport and its participants. In his autobiography, "Ferrari 80", he ranked Nuvolari, along with Stirling Moss, as the all-around best the world had ever seen:
"…We find similar the styles of a Nuvolari and a Moss, men who in whatever type of car, in any type of circumstance and on any race course, give their all… I think of these two pilots because they seem to me to have personified the maximum expression of unqualified ability aboard a vehicle… whether they were piloting a closed car, a two-seater spyder, or a single-seater…"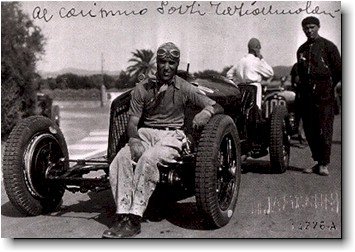 Ferrari added: "Numerous other racers of great fame, who otherwise demonstrated – like Fangio – sublime class in single-seaters, revealed uncertainty whenever they changed to different types of vehicles."
Nuvolari is credited with perfecting the controlled four-wheel drift, the dominant method of cornering through the early 1960s, until modern suspensions, and later down-draft technology, changed the cornering characteristics of racing machines. He raced against the best drivers of his era in cars good and not-so-good, and he beat them all at one time or another. One of his greatest triumphs was his victory in the 1935 German Grand Prix at the Nurburgring in an aging Alfa-Romeo: through sheer driving skill, he beat the all-conquering and vastly more powerful Mercedes-Benzes and Auto-Unions.* His winning record during the '34-'39 period was second only to that of the German ace, Rudolf Caracciola. Nuvolari came second in the 1947 Mille Miglia after leading most of the way in an under-powered Cisitalia, and would have won the race had he not drowned the ignition going through a puddle, necessitating a 20-minute stop to get the car going again.
Nuvolari won almost 200 races during his incredible career. When asked if racing did not frighten him, he replied: "Tell me, do you think you will die in bed? You do? Then where do you find the courage to get into it every night?"
He died in bed in 1953.
Comments
comments